PLUMBING SERVICES: SEWER VIDEO INSPECTION
Sewer Camera Inspection San Diego
Locating Problems with the Touch of a Button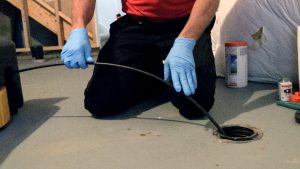 Whether you have a flood problem or need routine maintenance, the majority of homeowners will contact the top sewer camera video inspection company in San Diego to get their sewage inspected adequately. We have a dependable team of professionals who use cutting-edge equipment to discover any leaks or other issues in your sewer systems. We have high-quality sewer cameras at Drains Plumbing that can reveal the underlying hidden source of any drainage problem. Whether you own a home or a company, our sewer camera inspection service will assist you in identifying the source of the problem so that it may be promptly addressed.
Our video inspection devices help identify different kinds of pipeline problems, and not just the clogs:
Deteriorated piping materials
Blockage by debris
Root intrusion
Cracked sewer lateral
Bellied drain line
Separated lateral joint
Leaking pipe joints
We can assist you to detect the specific nature of the drain obstruction using sewer cameras, whether it's a low place in your pipes' construction, any broken drain lines, off-set drain lines, divided drain lines, or something worse like encroaching tree roots. Once we've determined the source of the obstruction, we'll take the necessary procedures to guarantee that your issue is resolved in the most effective and efficient manner possible.
Another reason to consider a sewer video inspection is if you are purchasing a new property. You can contact Drains Plumbing to have one of our plumbing professionals come over to your home and perform a full assessment of your whole drainage system. In this manner, you can see if your home requires any major plumbing repairs before you buy it. We will present you with an estimated cost of all the repairs or replacements that are required when we document the list of problems that we have discovered so that you may persuade the seller to cover the cost of repairs before you buy the home.
Call Molina Plumbing and Drains at (619) 345-5474 today to schedule service with our experienced San Diego sewer line repair technicians.
Knowing When an Inspection Is Needed
It's nearly tough to tell if you need to have your sewer line inspected, especially when all of the main lines are underground. However, there are a few indicators to watch for that can help you establish whether or not an inspection is required. For example, if your drains are constantly clogged, toilets are consistently backing up, or water is draining slowly, you should have your drain inspected immediately.
If you have any type of plumbing problem, big or small, don't hesitate to contact Drains Plumbing. Over the phone, we can effectively and efficiently troubleshoot any of your difficulties and assist you in obtaining answers to your inquiries.
The Benefits of Choosing Our Sewer Line Repair Team
Not only do we have cutting-edge tools at our Drains Plumbing firm, but we also have the skill to tackle difficult plumbing problems and do things correctly, which sets us apart from our competition.
We understand that having numerous options is always a good thing to guarantee that you receive the greatest bargain for the service. This is why we constantly provide free second opinions to our clients. We take pride in being upfront and honest with our pricing, and we are delighted to supply you with all of the information you require to make a more informed decision. Drains Plumbing can answer any of your sewer video inspection-related queries.
Give us a call today to get a free cost estimate for your desired service, whether you want to get to the base of the problem or ensure that the home you are about to acquire is free of all types of drainage concerns.
You don't have to let a burst sewer line destroy your day or your wallet. Call (619) 345-5474 to set your mind at ease while our plumbers diagnose and repair any sewage line issue.