Sink Installation San Diego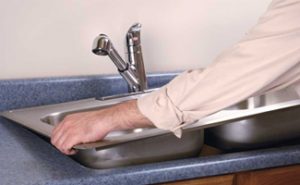 Sinks aren't usually the first item that springs to mind when thinking of plumbing. Sinks aren't something we think about very often. More and more individuals are considering their bathrooms to be spaces that require a high level of decorating, including various fixtures and other decorative items. To be honest, when it comes to sinks, homeowners nowadays have a lot of aesthetic options to select from. Our aim at San Diego's best sink installation and repair company is to assist you in selecting the best sink that meets your decorative needs and provides you with a unique experience.
Your sink is, without a doubt, one of the most significant focus areas in your bathroom. This is where you brush your teeth, wash your face and hands, shave, and even put on makeup for a party or special occasion. Whereas some sinks are simple in style and picked solely to complement the tile work and fit into the plain cabinets, others are stand-alone works of art that can easily give your space a contemporary vibe and make it look more modern than ever.
Whether you like stone, glass, metal, acrylic, or ceramic sinks, you'll find a variety of styles to choose from. We have a variety of unique designs that will suit your taste and requirements. Not only that, but they'll match the look of your faucet.
Whereas older sinks were very simple to install as a do-it-yourself job, the modern contemporary sinks are more difficult to install due to their complex designs and requirements. When it comes to installation, Drains Plumbing can ensure that your chosen sink will be fitted in the shortest amount of time possible, with the highest level of precision and efficiency, and the least amount of hassle and problem.
We can take care of your installation needs regardless of the type of sink you choose, or even if you want us to assist you find one. When you ask us to select a sink for you, you can rest confident that we will select the sort of fixture that best complements your bathroom's décor, styling, tiling, and other details. We also take into account your financial constraints.
Furthermore, we have a large selection of high-quality contemporary sinks to pick from for our clients' convenience. Whether you choose our model or one from another source, you can rest assured that we will fulfill all of your residential and commercial sink installation demands.
So, don't put it off any longer and call the best sink installation and repair business in San Diego for any of your plumbing needs. We will be pleased to provide you with a free estimate and answer any questions you may have during the call.