PLUMBING SERVICES: SLAB LEAKS
Slab Leak Detection San Diego
Available 24/7 – Your Problems Are Always Our Priority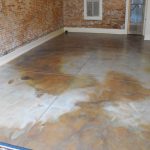 At Drains Plumbing, we have some of San Diego's best plumbers who are experts at repairing and detecting slab leaks of all kinds. We are constantly coming up with new ideas and providing you with the greatest solutions for any problems you may be having at your San Diego home. We take pride in being San Diego's best slab leak detection business. Our professional plumbers will advise you on the most cost-effective and dependable repair and replacement options.
Here are some symptoms of slab leaks:
You've observed mildew and a lot of dampness under your carpets recently. This could be accompanied by an extremely unpleasant odor.

You've discovered little cracks in your house's walls or floors despite the fact that none of the water faucets are turned on.

There's a hotspot on the floor that you're aware of.
Outsmarting Slab Leaks
Our leak detection professionals prioritize each customer and work until the project is completed. Molina Plumbing and Drains can be reached at (619) 345-5474. Inquire about a free estimate!
Residents in San Diego look onto us to successfully and professionally manage their slab leak issues:
We'll work with you to find the least invasive solutions to your challenges.

We work efficiently and promptly without sacrificing quality. We make certain that all of the parts and pipes are in good working order.
If you have a slab leak in your home, here are some steps you may take to handle the situation on your own. Start by identifying your house's master water supply box and turning the water valve clockwise. This will turn off the entire water supply to your home, preventing the leak from worsening and wasting water.
Slab Leaks and Repairs
When a house is built on a slab, there is always the possibility of a leak in the pipes beneath the concrete slab foundation.
Your house pipes will be prone to slab leaks or in need of repair depending on your region and the type of copper material utilized in the construction of homes in your area. Damage to your sewer lines will occur whenever damage occurs, and you may need a sewer video inspection to execute a sewer repair. No matter what the problem is, we guarantee that we will address all of the problems you've been having at home.
Because of the peculiar nature of slab foundations, a slab leak may not always be obvious. It's sometimes only a matter of looking for dampness in your carpets and floors. Unreasonably high water bills that are significantly more than your regular water usage are another key suspicion.
If you're not sure whether or not you have a slab leak problem at your San Diego home, you can always call Drains Plumbing and speak with one of our experts. One of our skilled technicians will come to your home and thoroughly assess the situation, providing you with a report detailing any underlying issues and potential remedies.
We have some of the top technicians at Drains Plumbing who have been hand-picked and intensively trained in the most up-to-date ways of electronic slab leak detection. They also know what repair choices and ideas are available to keep your condition from growing worse. When they arrive at your house, they will be equipped with cutting-edge slab leak detection technology. This allows you to inspect the problem quickly and address it as soon as possible.
Our plumbers can also detect the leak spot in the copper piping using our high-tech electronic slab leak equipment. The majority of the time, Drains Plumbing will fix a slab leak right away. However, if a repipe or bypass is required, we will advise you on the most effective and least expensive solution.
If we discover a slab leak, we can tell you that when you contact Drains Plumbing, we will take care of all of your slab leak issues, and it will be a thing of the past in no time. You wouldn't have to worry about high water bills or soggy carpets anymore.
Because of the skilled plumbing solutions we give, we have a good customer service reputation. We make certain that our customers' demands are handled quickly and efficiently. Our treatment for your slab leak issue, like all of our other services, will be given the utmost priority. This is feasible thanks to our highly skilled and well-trained plumbers, who have helped us become San Diego's best slab leak detection company. We can give you an individualized study of your difficulties that will aid in the development of a reliable solution. Another reason we are the top slab leak repair business in San Diego is that we tailor our services to your specific demands and finances while still guaranteeing that you receive a reliable solution.
Drains Plumbing can provide you with a free plumbing service estimate now. We have decades of experience in the plumbing field, and we are proud to declare ourselves the greatest plumbing company in San Diego because we are a locally owned and operated firm. Our business was based on the values of independence, service, honesty, and integrity. We do drain cleaning, general plumbing and more. 
For high-quality slab leak repairs in San Diego, give us a call now. Don't hesitate to get in touch with us at (619) 345-5474.