PLUMBING SERVICES: BACKFLOW PREVENTION DEVICES
Backflow Prevention Devices San Diego
Drains Plumbing Provides the Best Backflow Testing & Installation Services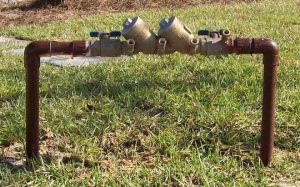 Backflow contaminating your typical water supply is no laughing issue. As a result, many towns and municipalities have moved quickly to guarantee that the Uniform Plumbing Related Code is strictly implemented, which will eventually necessitate the installation of a backflow preventer on all residential and commercial premises to eliminate potential contamination. Backflow prevention devices ensure that your potable water supply is safe from contamination. When you open your faucets and water flows out, you probably don't think about it again. However, if there is a significant decrease in water stress, you are at risk of Backflow. Backflow occurs when your typical water flows backward and contaminates your water supply instead of flowing out and apart as it should. We have a specialist team of pros who can perform backflow testing or device setup as the top backflow protection device unit installation and repair company in San Diego.
To make an appointment or get a free quote, call our plumbers at (619) 345-5474 now. In San Diego, we assist homeowners.
What is Backflow?
What is Backflow?
Backflow is a flow of applied water or waste products from any professional, institutional, or home plumbing system into the clean water resource system that is in the opposite direction of the drinking water system's most usual or expected flow. Rather than flowing "out and about," misused or used water returns to the source, contaminating the water used for drinking, bathing, or washing.
A considerable water strain shift, such as when the drinking water pressure in the supply point is lower than the normal water pressure at the main point where the faucet is switched on, might produce this circulation reversal. If this occurs, the water at the place where the faucet is generally turned on (useful point) is drawn back into the device, potentially contaminating all of the other water. If left untreated, this type of situation could eventually degrade to something more manageable in the broader public water supply.
Is Backflow Testing Necessary?
You should get your backflow preventer professionally examined once a year if you have one installed in your home. This type of gadget is effective at detecting Backflow and helps in the prevention of drinking water reversal and pollution of water flowing into your home.
When backflow protection devices are usually faulty, they may:
Fail to prevent contaminated water from going into your potable normal water supply
Allow water to get wasted due to leaking devices
Cause this inflatable water pressure in your house to drop
Replacing & Setting up Backflow Reduction Devices
The cross-network is the point where the pure water meets the contaminated water, which could be from a sewer pipe. A backflow protection assembly is positioned at the idea of your cross-connections to prevent Backflow. To avoid the degree of pollution that could develop in those particular settings, the installed backflow prevention unit must complement the location's specific hydraulic characteristics.
Because there is so much more information available about installing backflow preventers, you can rest easy knowing that if you ever require these services, our qualified and expert specialists will take care of all of your backflow prevention needs. If you wish to talk about the specifics of backflow prevention, the technician who performed your inspection can provide you with a comprehensive picture of your property's backflow prevention requirements.
Our licensed professionals are capable of identifying whether a backflow device is properly keeping you safe or if it is inefficient and putting you in danger by doing backflow assessment because we are the top backflow device installation and repair company in San Diego. If we uncover that your plumbing program is in jeopardy as a result of our evaluation, we will recommend that you replace it. These gadgets should be replaced every five years on average. Call us today at Drains Plumbing for a free quote on plumbing services from San Diego's best plumbers.